Pauline – end of week 23
How I'm feeling:
I have no idea if I am coming or going right now, we are less than a week away from the big day and I am excited and nervous all at once.
Weight loss update:
I had my first weight gain this week of 0.2kg which is not much but I was still annoyed with myself but realistically I knew it was coming as I have had so much on recently and whilst some occasions, I have managed well there have been some I did not manage well.
Biggest challenge in the last week:
Just trying to keep on track with so many events and social occasions. I had my work Hen this past weekend which was a lot of fun, but it required a lot planning and motivation for the next day not to go completely off the rails as the temptation to binge on junk food when you have been drinking is a really tough thing to beat.
Biggest success in the last week:
I had another good review with Dr Sam, and I had managed to increase my muscle a small bit which made me very happy.
Jon – end of week 23
How I'm feeling:
I feel like I should be more nervous but truthfully, I am just really excited and can't wait for Sunday.
Weight loss update:
I lost 0.3kg this week.
Biggest challenge in the last week:
I am still suffering from a sore back so I have found it difficult to do any of the press ups, but I tried the best I could and managed one or two, but I still managed to get out walking.
Biggest success in the last week:
After discussing with Sam at my last review about the food we feed our kids and the rubbish that are in things like chicken nuggets etc I got Finn involved with making Homemade Chicken Goujons and Pizza. It was a really fun experience and he seemed to really enjoy the food we made.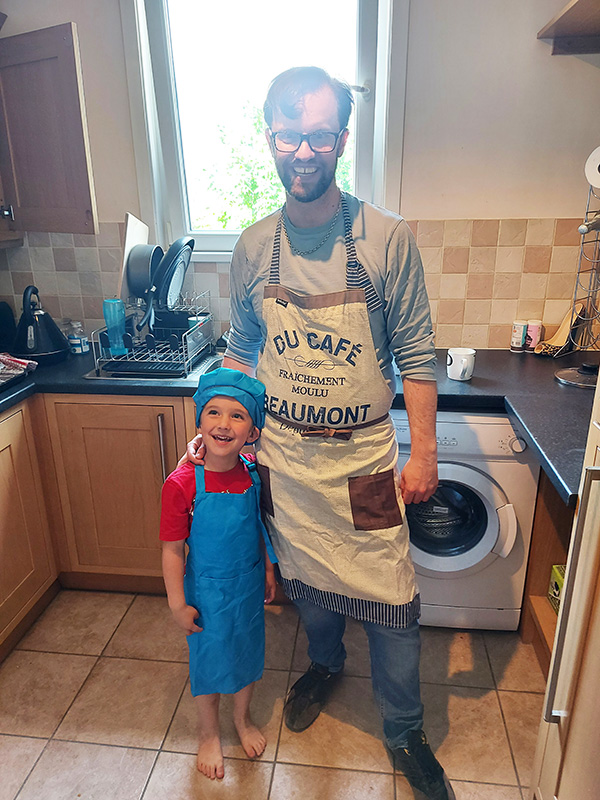 ---
With only 6 sleeps until the big day, we are going to take a very short break from the updates and focus on getting all the final preparations done and just enjoy the build-up as within a flash it will all be over…
We will be back though as our weight loss journeys are far from over if anything, we are just getting started we always said the wedding was just a small part of our motivation to lose weight and get healthier and so we are excited to continue sharing all this with you. Thank you to everyone who has supported us thus far. We promise to share some photos as soon as we can.
Love,
The very soon to be Mr & Mrs McNab
xx